Guided by vision
Bringing a world of possibilities closer to home
Reimagining aerial transportation
Overair is developing all-electric VTOL (eVTOL) aircraft dedicated to transforming how people and goods move in and around urban spaces and beyond.
Mission-driven
We are revolutionizing the way people will live their lives by providing a safe, convenient, and affordable new mode of transportation that allows them to do things they could never do before.
Leveraging decades of experience to define electric aerial mobility
Overair spun out of Karem Aircraft in 2020 with 48 VTOL patents, decades of aircraft development experience with the US military, and two decades of collaboration by founders Abe Karem and Ben Tigner. Together, they assembled a team of the best engineers to revolutionize air transportation.
Our heritage
1980s
Industry Changing UAVs
In the early 1980s, a pioneering Abe Karem founded Leading Systems Inc. in his garage in Hacienda Heights, California, to build a new type of aircraft. Abe and his small team at Leading Systems developed a series of vehicles that resulted in the world's first operational, large-scale unmanned aerial vehicles that forever changed aviation. Leading Systems' designs were acquired by General Atomics and are now incorporated into the Predator UAV.
1990s – 2000s
Next-Generation Rotorcraft
Through the 1990s and early 2000s, Abe's team moved into rotorcraft to solve the efficiency issues that have hampered helicopters since their creation. The resulting A160 Hummingbird broke endurance and altitude records and initiated the technology path leading to Butterfly's high-efficiency propulsion system. Many of the A160's records hold to this day, and the slowed-rotor concept that was essential to the A160's success has been perfected for Butterfly.
2010s – Today
Future Vertical Lift
Moving into the 2010s through the present the focus has been honing an advanced form of propulsion that introduces wing-borne flight. The Optimum Speed Tilt-Rotor (OSTR) brings unmatched aeromechanical efficiency to the fold. Vetted by industry experts at DARPA, NASA, US Army Aviation, this technology has been a key part of the US Army's Future Vertical Lift (FVL) program to field next-generation of rotorcraft and underpins our design.
Abe Karem
Co-founder and Principal Designer​

Legends aren't born, they are honed. With 14 novel aircraft that have moved from a clean-sheet of paper into the skies and hundreds more designs that have evolved on the drafting board, Abe brings an invaluable spark to the Overair team. A true legend of aerospace who is yet again redefining the industry. With 50+ years of aerospace innovation, Abe designed aircraft include the Predator, Amber, and Gnat UAVs, the Boeing A160 Hummingbird, and the Kfir fighter.
Ben Tigner
Co-founder and CEO

Ben leads all aspects of Overair's aircraft development and commercialization. As CEO of Overair, Ben empowers our engineering, manufacturing, and commercial teams to create opportunities for as many people as possible with Butterfly. With 30+ years aerospace experience, Ben's credentials include President at Karem Aircraft, Vice President of Engineering at Frontier Systems, Project lead – Stanford/NASA/McDonald-Douglas Blended Wing Body Demonstrator, a PhD in Physics, an MS and PostDoc in Aeronautics at Stanford.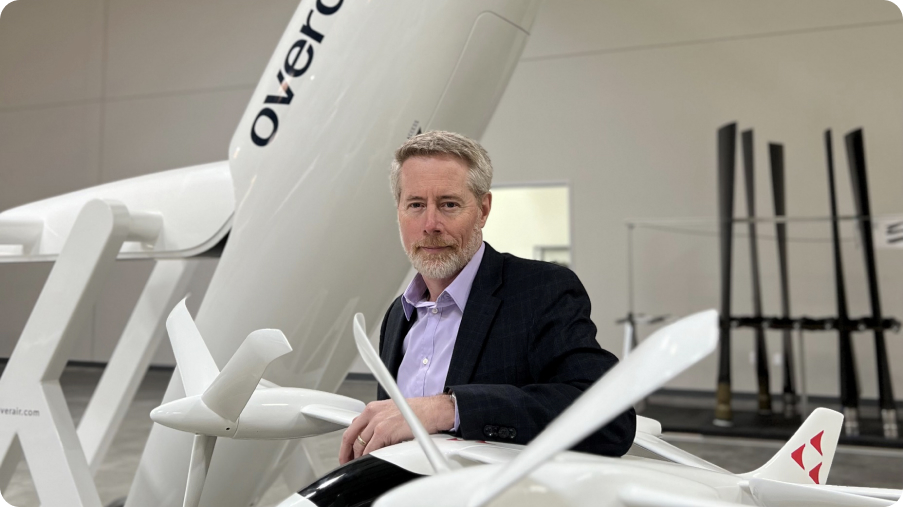 Dr. Valerie Manning
CCO

Dr. Valerie Manning is the CCO at Overair, where she leads development and execution of the business, including product and performance, business development, government affairs, mobility operations, and support and services. Prior to Overair, Dr. Manning held senior executive roles at Airbus. Dr. Manning is a retired USAF officer and accomplished jet-rated pilot with degrees from Princeton (B.S. in mechanical and aerospace engineering) and Stanford (M.S. and Ph.D. in aeronautics and astronautics).
Tom Whayne
CFO

Tom Whayne is the CFO at Overair. In this role, Tom leads all aspects of Overair's Finance Department, including financial planning and analysis, corporate development, accounting, tax and treasury. He has more than 23 years of experience as an investment banker at firms including Morgan Stanley and Credit Suisse First Boston. Tom earned an A.B. degree in Economics from Harvard College and a J.D. degree from the University of Virginia School of Law.
Technical Leadership Team
Commercial Leadership Team
Production and flight test facilities
Headquarters & initial manufacturing
Headquartered in Santa Ana, CA, our 200k sq.ft. epicenter of innovation where cutting-edge design meets advanced machining and early-stage production capacity. Here, on the grounds where aviation pioneers once stood, you can be part of writing the next chapter of aviation history with Overair.
Flight test facility
Just north of our main headquarters, the Overair flight test facility resides within the Southern California Logistics Airport in Victorville. This is where we bring our innovative concepts to life, turning the future of flight into a reality.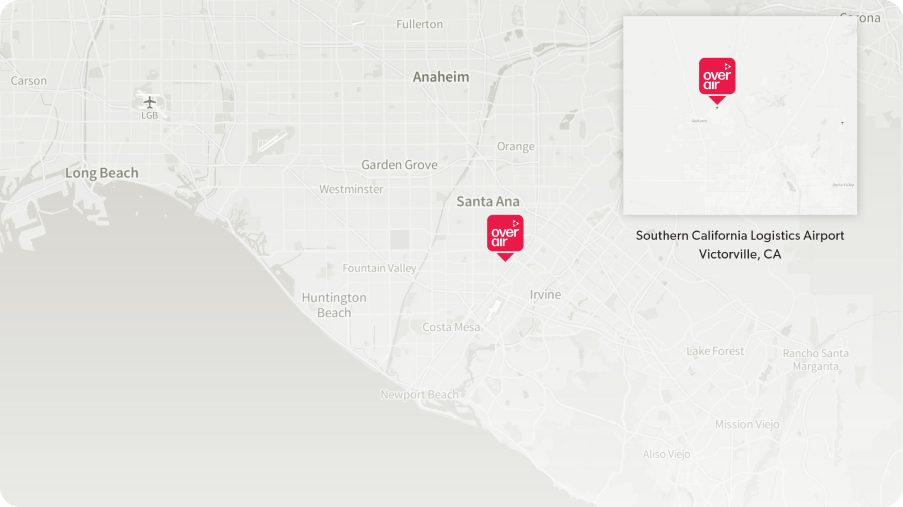 Let's Fly
Join us on our mission
We're on a mission to transform the way people live. This starts by redefining air travel and bringing a world of possibilities closer to home for everyone.